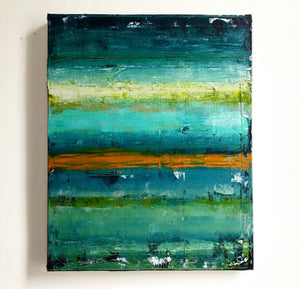 Sara Ann Rutherford
Hello, I'm Sara Ann Rutherford and I grew up in St. Louis, Missouri and rural Western Pennsylvania. I currently live in St. Louis, MO with my dog Pickle after 20 years in NYC. My interest in creating began at an early age, and after high school, I studied painting independently, honing my style. I like to describe my painting process as stream of consciousness, with each painting often being completed in one intense session.
In 2018, I visited St. Louis for my grandfather's 90th birthday. At that time, I had not painted in several years. I found some of my old work in my grandparent's basement and something sparked in me. I felt compelled to start creating again. As I finished new paintings, I shared them on social media, and was met with loving support and inquiries to purchase my work. Since then, I have sold original paintings and commissioned pieces for clients all over North America and Europe. My work has been featured in the inaugural issue of Dumbo Living Magazine, B Scene Zine and the second issue of Gallery M International Art Magazine.
Please send all commission inquiries to saraannrutherfordart@gmail.com.