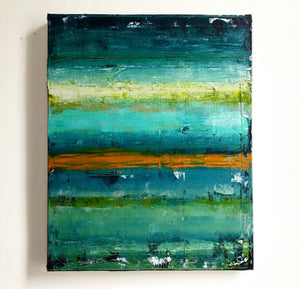 Sara Ann Rutherford
Sara Ann Rutherford is a St. Louis-born artist whose creative path weaves a dynamic tapestry across diverse realms. From the theatrical stage to the world of stand-up, Sara explored various avenues before rediscovering a profound connection with painting during a pivotal visit home to St. Louis from Brooklyn, NY in 2018.
Since then, Sara has become a notable presence in the East Village art scene and shown her work internationally, with paintings finding homes across North America and Europe. Galleries in New York City, Milan, and the Canary Islands have showcased Sara's paintings.
Social media has become a virtual gallery, where Sara's art connects with audiences globally. Additionally, her work has been featured in Dumbo Living Magazine, B Scene Zine, and M International Art Magazine.
Within each brushstroke, Sara's work invites viewers to go inward into a world of introspection and emotion. The evolving narrative of Sara's artistic journey continues to unfold in new and often unexpected ways, revealing layers of depth and meaning along the way.

You can see her latest work at her residency at Saks Fifth Ave in St. Louis, Mo from December 1st 2023- January 31st 2024.

Please send all commission inquiries to saraannrutherfordart@gmail.com.